Designer Shoes
A great thing about fashion is how much fun a returning trend can be. One of the fun returning footwear trends for the fall 2016 season is the return of the Mary Jane shoe. Mary Jane shoes are well known and easily identifiable as having a rounded, broad toe box, low heel and a strap that fastens across the top of the foot with either a button or a buckle. Many of us have had at least one pair of Mary Janes as we were growing up. It is an old fashioned shoe that has shown up for a lot of years and now Mary Jane shoes are making a comeback. Here are 15 pairs of fun fall 2016 Mary Jane shoes for any budget, from designer shoes to more affordable options.
1. GUCCI Embellished Mary Jane Pumps
Gucci's embellished, brightly colored leather Mary Jane pumps feature an outside buckle closure and strategically placed faux pearls, one over the toes and the others around the 1-inch block heel. The scalloped edges add another touch to the overall interesting aesthetic. Both the rear facing pearl on the heel and the center resting pearl over the toes are also adorned with the signature Gucci GG logo. Purchase yours here at Net-A-Porter!
2. Marni Mary Jane Pumps
The signature pointed almond toe that Mary Janes are known to have is here, as well as the center strap (with a twist) work well with the 3.1-inch-high block heel. These white Mary Jane shoes for fall 2016 by Marni offer a slightly updated take on the classic Mary Jane for an adult. You can get yours at Moda Operandi.
3. Rebecca Minkoff Brooke Mary Jane Pumps
These nude colored Mary Jane pumps by Rebecca Minkoff are updated Mary Jane shoes that still have all the classic features of the original shoe. These shoes are patent leather with buckle closures, an almond toe and a covered block heel that is 2.25 inches high. You can buy yours at Shopbop.
4. Miu Miu Crystal-Strap Mary Jane Pumps
Miu Miu typically has a gift for embellishment, and this triple strapped, jewel-embellished set of patent leather Mary Janes has all the expected features of this signature shoe. From the almond shaped toe box to the patent leather covered heel, this shoe is a sparkling take on a classic. These fall 2016 Mary Jane shoes come in black and nude patent leather and are available at Saks Fifth Avenue.
5. Lanvin Patent Leather Mary Jane Shoes
These Italian made powder pink colored patent leather pumps are a great Mary Jane shoe with a wide ankle strap and double buckle closure. The rounded block heel is 1.5 inches high. You can get your Lanvin patent leather Mary Janes at FWRD.com.
6. Double-Strap Mary Jane Shoes
These fall 2016 Mary Jane shoes feature faux patent leather and a set of mini ankle straps with tiny buckles. The block heel is considered to be mid height and the rounded toe is comfortable. You can get yours at ASOS.
7. Christian Louboutin Dolly Birdy 30 Mary Jane Pumps
Louboutins are well known for an iconic classy touch and these Mary Janes are updated without losing their classic looks. The low block heel shows off a leopard print and the iconic Louboutin red sole. The shiny polished burgundy patent leather body of the shoe also has the rounded toe and ankle strap with a circle buckle on the side. Buy yours at Net-A-Porter!
8. MIU MIU Crystal-Embellished Mary Jane Shoes
High shine patent leather and crystal-embellished block-shaped heels give these Mary Janes by Miu Miu a standout appearance. The crystals are different sizes and shapes to reflect the light differently from all angles for a more interesting look. The strap that is typically found across the ankle is in this case right behind the toes and very slim. Get your ruby Miu Miu Mary Janes at Net-A-Porter!
9. Marc Jacobs Lexi Glittered Mary Jane Pumps
These Marc Jacobs Lexi Mary Janes are a light catching wonder with a glittery patent leather that also has a high polished shine. These fall 2016 Mary Janes are a shimmering silver and gold and feature the traditional almond shaped toe box, block heel and ankle strap. The heel measures in at 1.5 inches high and is also wrapped in the silver and gold glitter color known as Diamond. You can purchase your Diamond Lexi Mary Janes at Net-A-Porter.
10. New Look Patent Mary Jane Heeled Shoes
The wide fit is more accommodating for certain feet, and the block heel on these Mary Janes is mid height. The patent leather appearance is soft pink with a round toe and an ankle strap fastening that ends in a pin buckle closure. These Mary Janes can be found atASOS.
11. Classic Beige Mary Jane Heeled Shoes
These beige and black patent leather Mary Jane heels are a bit different than other shoes on this list. Rather than having the ankle strap, these have a heel strap and open back. These slip-in shoes have a 2.5-inch-tall block heel and cut outs midway along the foot. Get yours at Zalando!
12. Prada Suede Mary Jane Block-Heel Shoes
Prada's suede Mary Janes come in black or burgundy with a soft feel thanks the suede that covers the entire shoe including the 2.16-inch block heel. The almond-toe box and strap that make up the classic Mary Jane shoe are here. You can get yours at Saks Fifth Avenue.
13. Gianvito Rossi Suede Mary Janes
These suede pumps feature the great silhouette of a Mary Jane, but rather than the cross ankle strap, there is an almost ballet-shoe-like ankle tie. The suede is elegant, covering the entire shoe and the 2-inch block heel. These suede Gianvito Rossi Mary Jane shoes come in red and black and are available at Net-A-Porter.
14. Isabel Marant Étoile Louanne Mary Jane Pumps
Smooth cream-colored leather works beautifully with a wood-effect-covered block heel. The buckle gleams polished gold on the over ankle strap. The Mary Jane silhouette is easily recognizable and the shoe a comfort to wear and a chic sight to see. These fall 2016 Mary Jane shoes are available at Net-A-Porter.
15. Mary Jane Flats
The Mary-Jayne flat is an everyday Mary Jane that comes in sparkling gold leather or soft, rich blue suede. They are the classic shape and silhouette of a Mary Jane along with an adjustable strap for just the right fit. These are great shoes that are available at Free People.
Fashion
Even though it seems like handbags get more and more expensive every season, there's at least a bit of evidence that prices are leveling out at some levels of the market. Rare Hermès Birkins may be selling for ever-higher prices, but the most expensive bags from brands like Fendi, Givenchy and The Row seem to have cooled down.
We track a variety of ultra-luxury categories in stock at online retailers every season, including exotic and heavily embellished bags, and not only have prices in those categories leveled off, but fewer bags in those categories are finding their ways onto the websites of large online retailers. That may indicate a stagnation in consumer interest in the US, a desire by brands to keep those rare bags from seeming too common or both.
Whatever the reason, you can check out this season's most expensive pieces below.
1 / 9
Most Expensive Embellished Bag
Dolce & Gabbana Enchanted Clock Box Bag

2 / 9
Most Expensive Fur Bag
Fendi Baguette Monster Mixed Fur Bag

3 / 9
Most Expensive Calf Hair Bag
Fendi Calf Hair Peekaboo Bag

4 / 9
Most Expensive Textile Bag

5 / 9
Most Expensive Python Bag
Givenchy Python Antigona Bag

6 / 9
Most Expensive Leather Bag
Hermès Jypsiere Bag

7 / 9
Most Expensive Alligator Bag
The Row Alligator Two for One 12 Bag

8 / 9
Most Expensive Ostrich Bag
The Row Sling 15 Ostrich Bag

9 / 9
Most Expensive Crocodile Bag
Zagliani Crocodile and Fox Fur Gatsby Bag

Fashion
Back to school shopping isn't just for kids – plenty of adults are still finishing up degrees and some want to take their kids to school in style. In the spirit of being prepared, here are 10 must-have back to school essentials for fall 2016. I play favorites in these lists and I have a few of them here, actually the first and second item listed.
These are our favorite top 10 fall 2016 back to school fashion staples for adults that are meant for those of us who have finished up with the majority of our schooling and need to be reminded what it was all for. Fashion lets you do what you want – show off how Back to School works for the adults too. Give the kids something fashionable to aspire to!
1. Gucci GG Marmont Canvas Trimmed Leather Backpack
It's beautiful right? No point in denying that every detail of this leather backpack is trimmed in perfection, showing off some of the most detailed and beautiful embellishments of the Gucci brand. From the chain straps to the bold gold signature GG on the front, you cannot go wrong with this beautiful bag. I adore the canvas inside, the convenient inner pocket and the well-known Gucci stripe down the center of the flap top, I love the shape and the dangling heart detail. You can get yours at Saks Fifth Avenue.
2. Adidas Originals Off-White Suede Gazelle Sneakers
Adidas is a classic comfy and stylish shoe. Although the risk of stains on the all-white shoe is daunting a toothbrush, some focus and elbow grease will keep them looking fresh and clean (you can also check out YouTube for the best ways to harmlessly clean your white Adidas). They go with nearly anything. Versatility and comfort are always necessary when back to school shopping, and these are a great back to school staple for adults. Buy yours at ASOS!
3. Flower Patchwork Bomber Jacket
Cropped jackets are in, bomber jackets are in and flower embellishments are in. This jacket combines all the three trends and even adds an enhanced sleeve that has zippered pockets. It is interesting to look at and functional. On the back is the French word for The Blind "L Aveugle". It comes in multiple colors and is sure to keep you comfortable during the fall and catching eyes as you go. Get yours at Storets!
4. See by Chloe Denim Shirtdress
This See by Chloe mid-thigh length denim shirtdress is all at once southwestern and chic with a two-toned denim enhanced design. This shirtdress is the visual definition of just enough. It is just enough denim not to have gone overboard, just blue enough to be complementary on so many skin tones and just enough to be chic and fun at the same time. The indigo and dark blue denim complement each other very well. Get yours atShopbop.
5. I'm Bananas For You Tee
These tees are fun and mildly adorable with a fruit embellishment on the upper left hand side where a pocket could be. Each has a cute saying like 'Chili out' beneath a set of peppers, 'Kiwi go again' beneath a kiwi, 'You're my other half' above an open avocado, 'I'm bananas for you' over a partially peeled banana and 'Your one in a melon' in a banner over a slice of watermelon. They are fun and cute white tee shirts that will comfortably accent your 2016 back to school wardrobe while still making you look fashionably adult. Get yours at Urban Outfitters.
6. Mansur Gavriel Mini Leather Backpack
At one point or another we all loved a mini backpack and they are coming back with the vengeance of a chic fashionable wardrobe hero. This little leather backpack has a drawstring closure beneath a textured flap and a zippered inner pocket. The design is simple and clean and a great reminder of an old favorite. Get yours at Net-A-Porter.
7. River Island Ripped Mom Jean
These jeans are comfortable and ready to go, easy to style and practical, all the staples of a mom jean. Though this is a surprising trend as it has long been the bane of many existences, the mom jean is taking off, with a bit of styling it can go nearly anywhere and the ripped denim is definitely on trend this school year for kids and adults alike. Busy people show the wear in their clothes, fashionable of course and this is how. Order yours at ASOS.
8. Truly Madly Deeply Fresh Ringer Tee
This tee is an online exclusive that is another fun addition. The contrast colored crew neck creates a classic style while the slightly shrunken fit is flattering. The Golden tee has a pineapple, yellow crew neck and the word Golden embellished on it, while the Fresh color has a bright red strawberry over the word fresh and a matching red crew neck. The all cotton T-shirt is soft white and the look is flattering and fun. You can get yours at Urban Outfitters.
9. Off-the-Shoulder Gingham Shirt
This is an off-the-shoulder gingham top that is cute and checkered. The off-the-shoulder design is accented with a ruffled, flared, voluminous cuffed sleeve that creates a sweet and balanced look. The off-the-shoulder design is sweet and the large check of the gingham is definitely an interesting sight. This fun top also comes in black and white as well. You can purchase one at Shopbop.
10. Origami Wrap Mini Skirt
Mini skirts are back and this wrap design is very on trend as well. The use of scuba fabric means that the swap design is evident while the material is crimp free. The look is casual, chic and easy to dress up or down as needed. You can purchase yours at MissGuided.
Fashion
Sometimes it takes a trend a couple tries to get off the ground. Several years ago, velvet was all over fall runways, but it seemed like buyers for retail stores weren't, well, buying it--the velvet pieces went largely unproduced and, in turn, shoppers focused on other things. Now, though, brands are giving velvet another shot, and for Fall 2016, it feels like the time is right for accessories in this plush fabric.
We're seeing a lot of velvet in both bags and shoes, but today, we're here to focus on bags. (More on the shoes next week!) When it comes to luxury goods, velvet has a few obvious advantages: First, it's incredibly luxe-looking and pleasant to touch, which makes it a much more fitting leather alternative for high-end pieces than most other fabrics. Second, velvet bags are usually a bit less expensive than their leather counterparts, which is great when you're going for a seasonal look.
Fall and winter dressing are all about layering rich textures and colors, and velvet is an ideal way to spruce up your average jeans-and-sweater combo. Below, check out our favorite velvet bags from the season so far.
1 / 18
Bottega Veneta Olimpia Velvet and Watersnake Clutch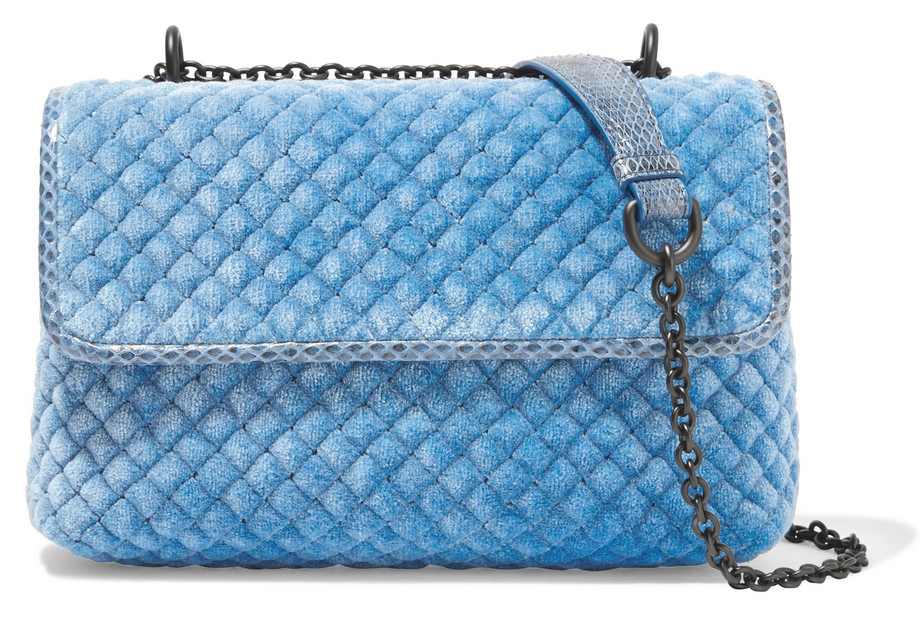 2 / 18
Dries van Noten Velvet Shoulder Bag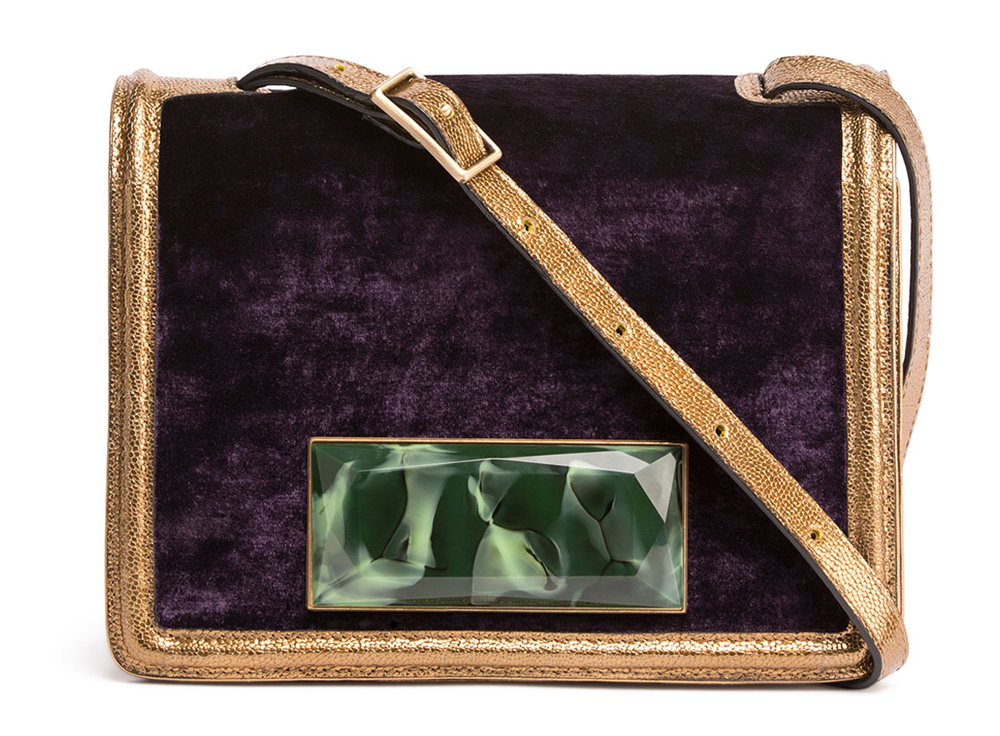 3 / 18
Edie Parker Melissa Velvet Crossbody Bag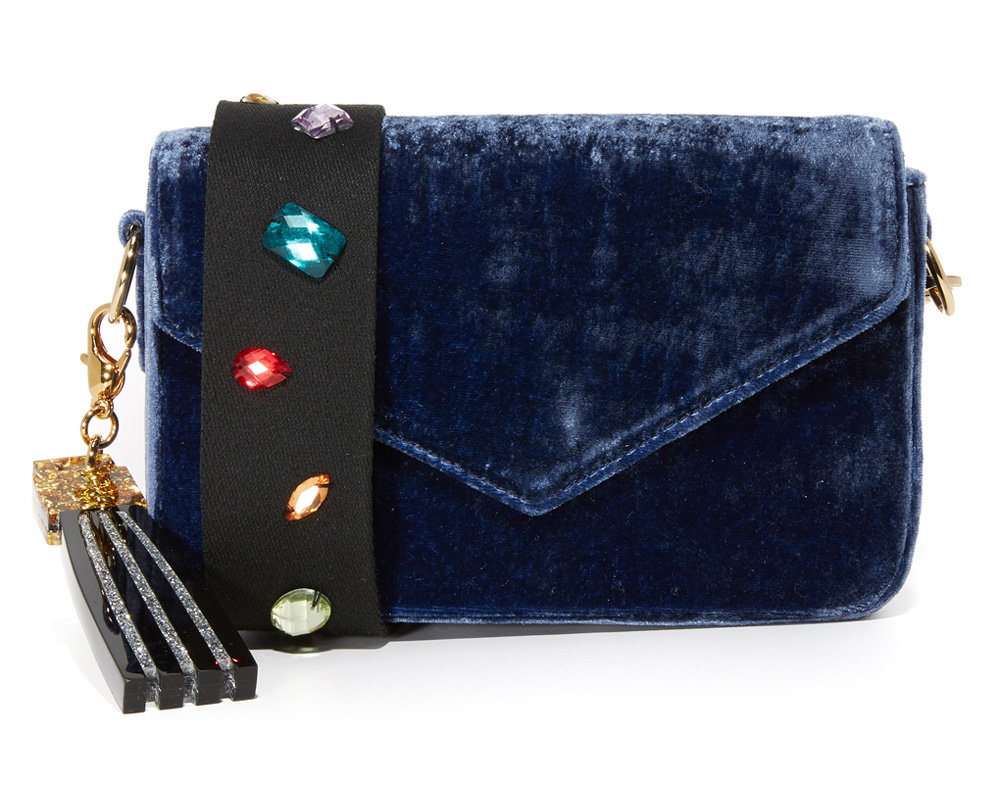 4 / 18
Fendi Velvet Peekaboo Bag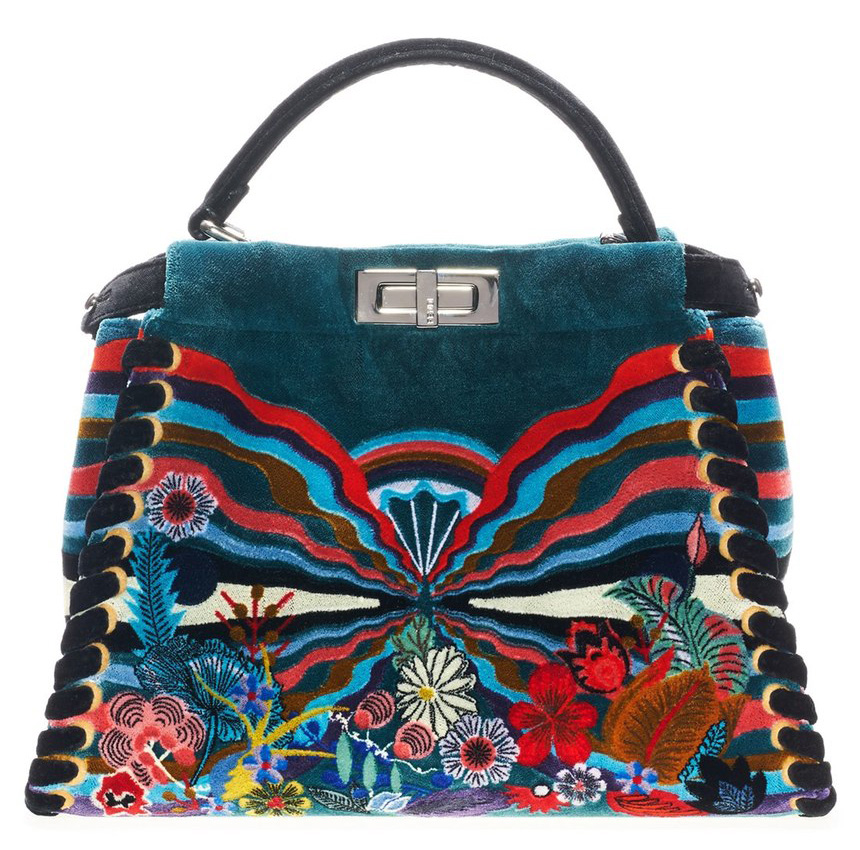 5 / 18
Givenchy Velvet Backpack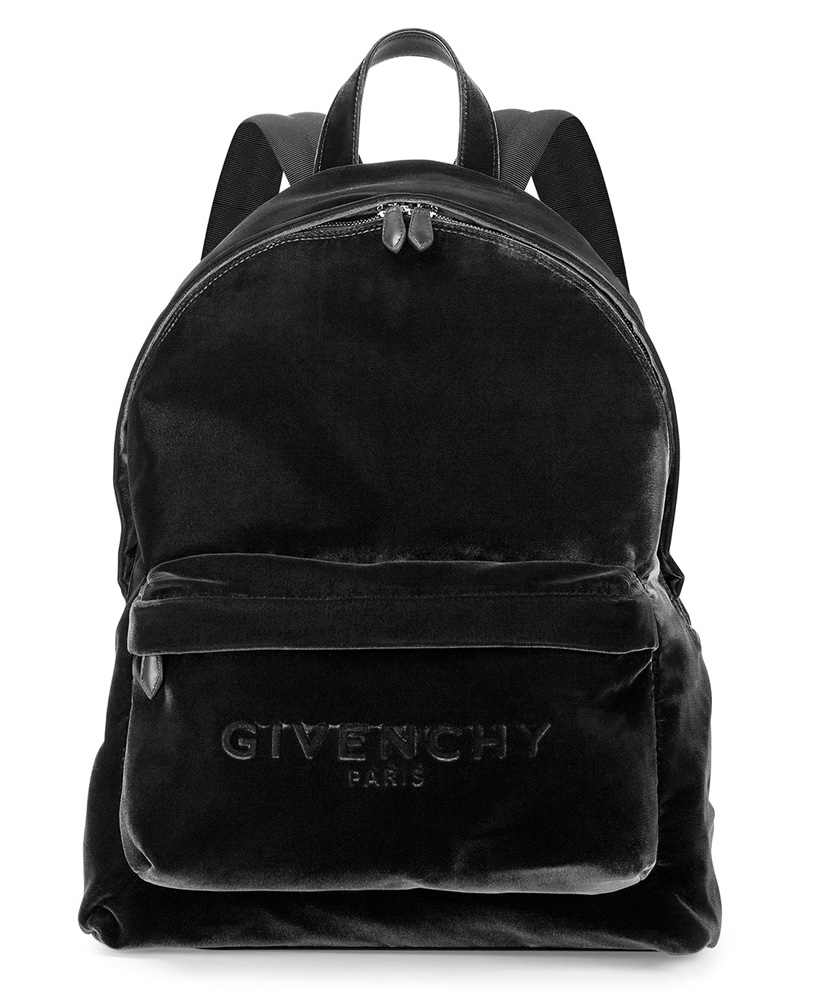 6 / 18
Gucci Marmont Velvet Shoulder Bag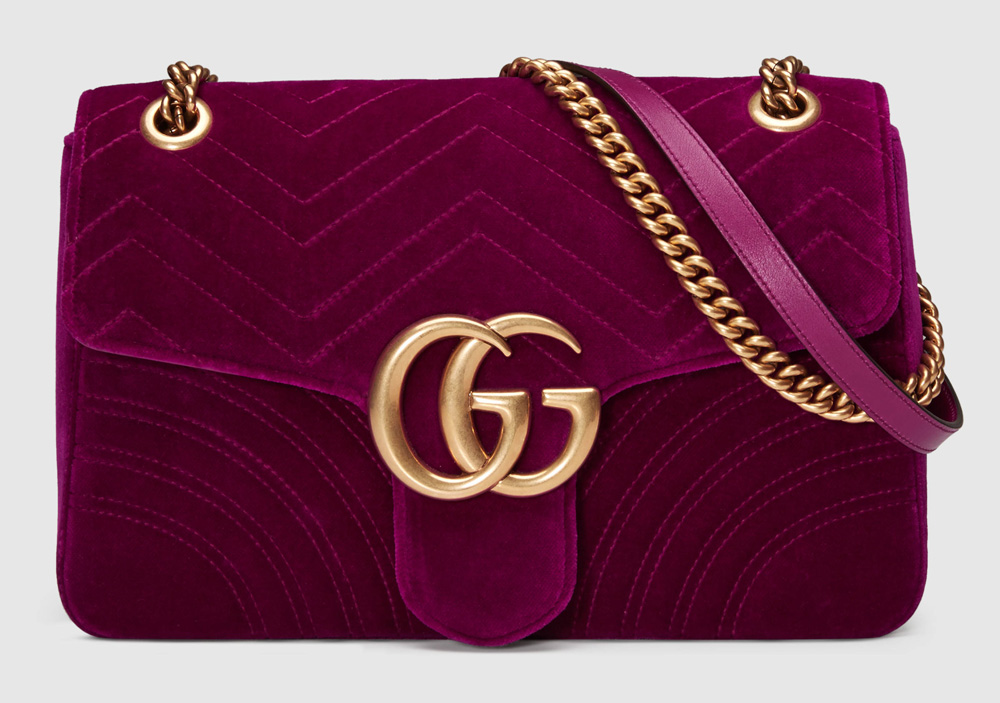 7 / 18
Jimmy Choo Lockett Petite Velvet Bag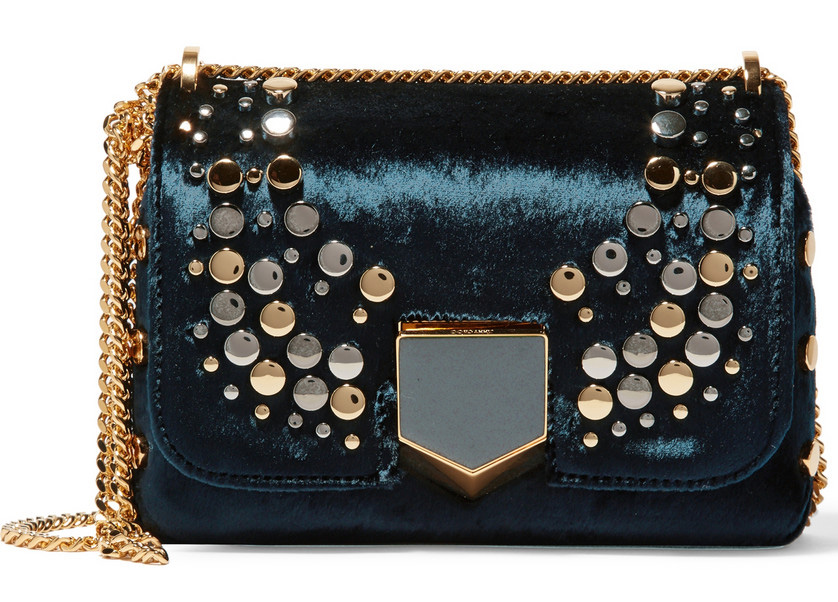 8 / 18
Lanvin Sugar Velvet Shoulder Bag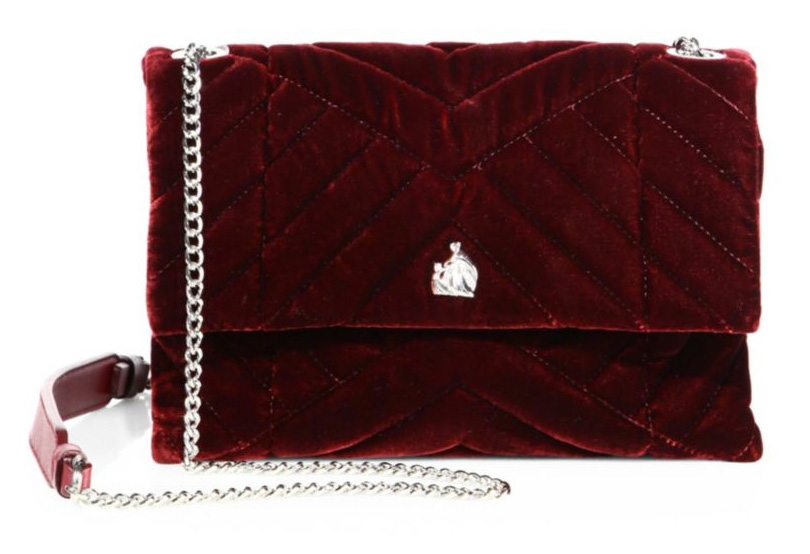 9 / 18
Loewe T Large Velvet Pouch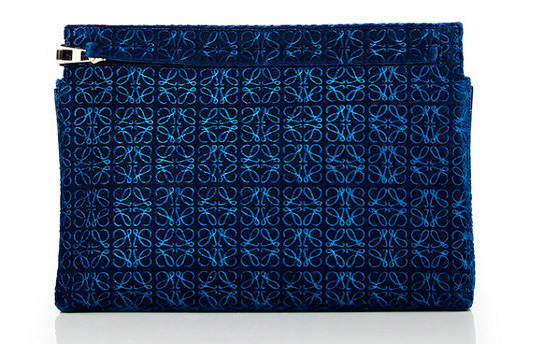 10 / 18
Miu Miu Velutto Top Handle Bag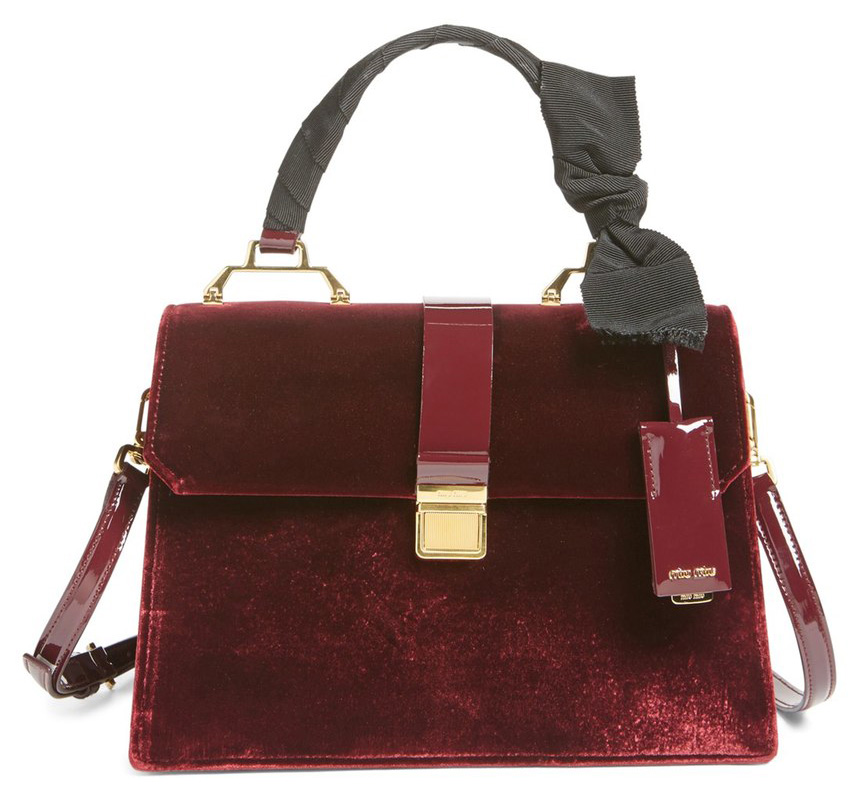 11 / 18
Moschino Velvet Convertible Shoulder Bag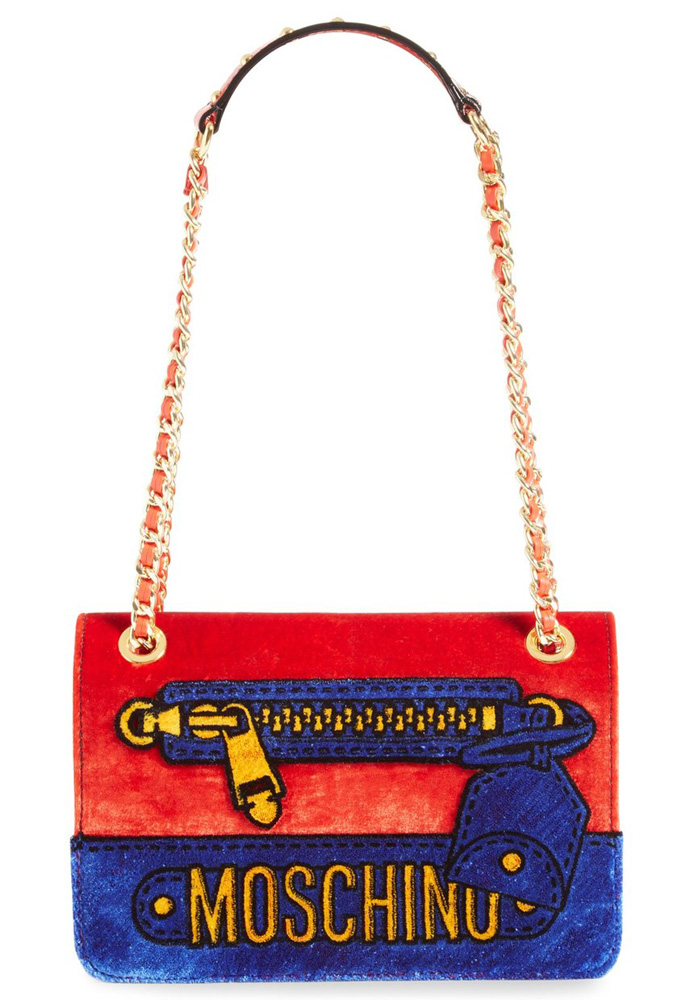 12 / 18
Prada Pionnière Velvet Saddle Bag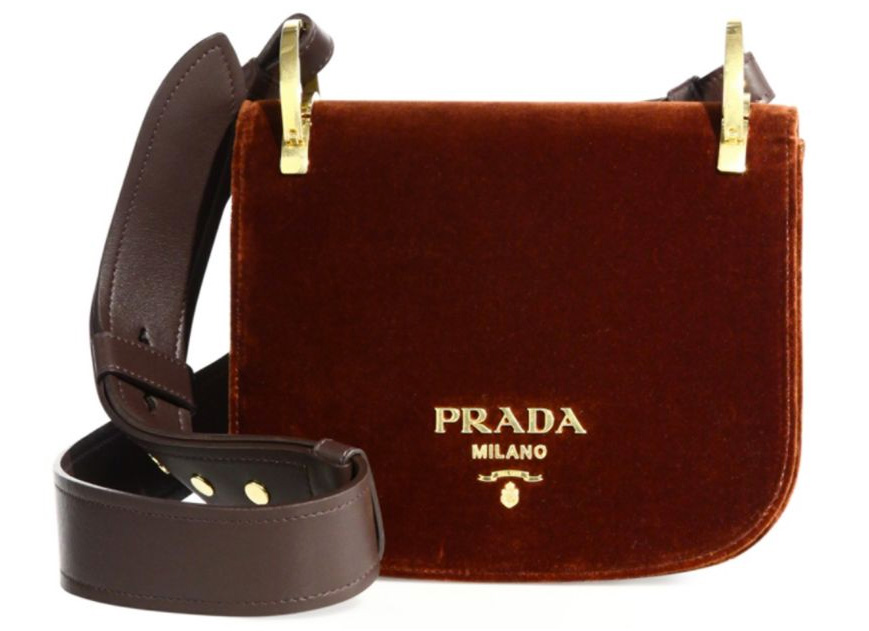 13 / 18
Ralph Lauren Tiffin Velvet Bag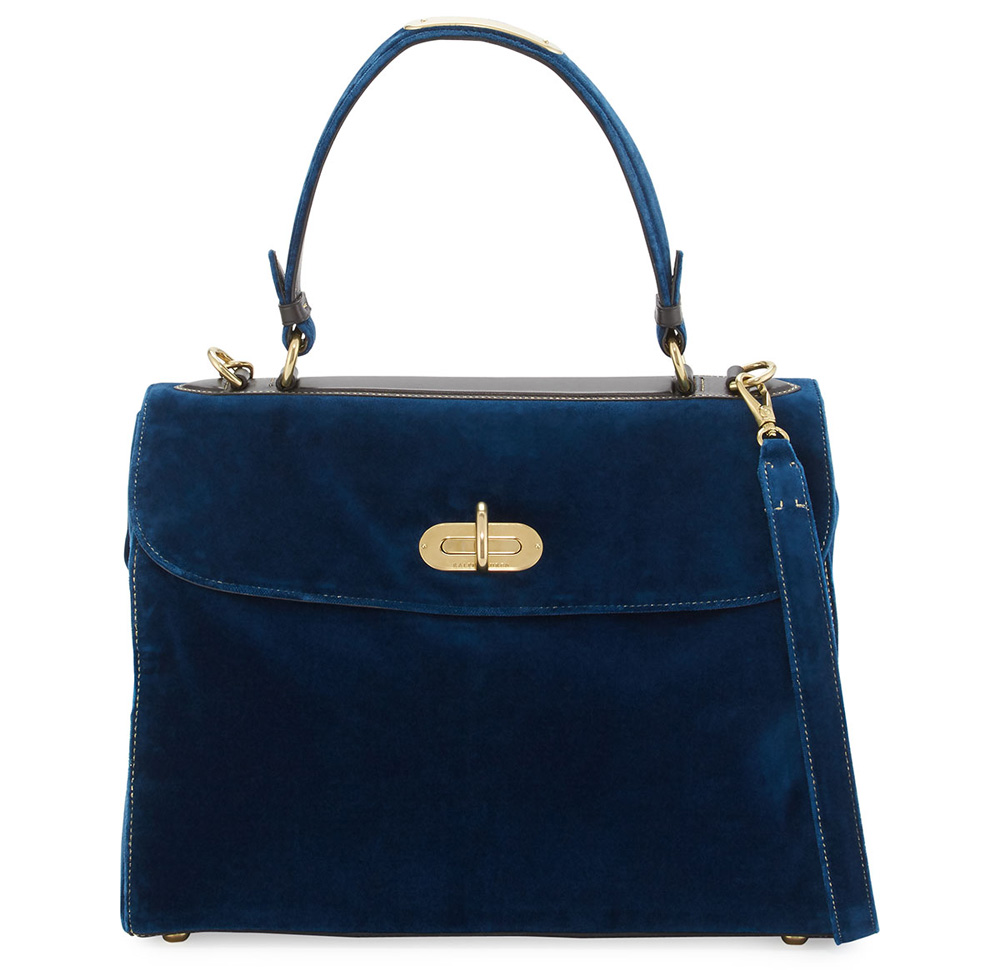 14 / 18
Saint Laurent Monogram Medium Velvet Shoulder Bag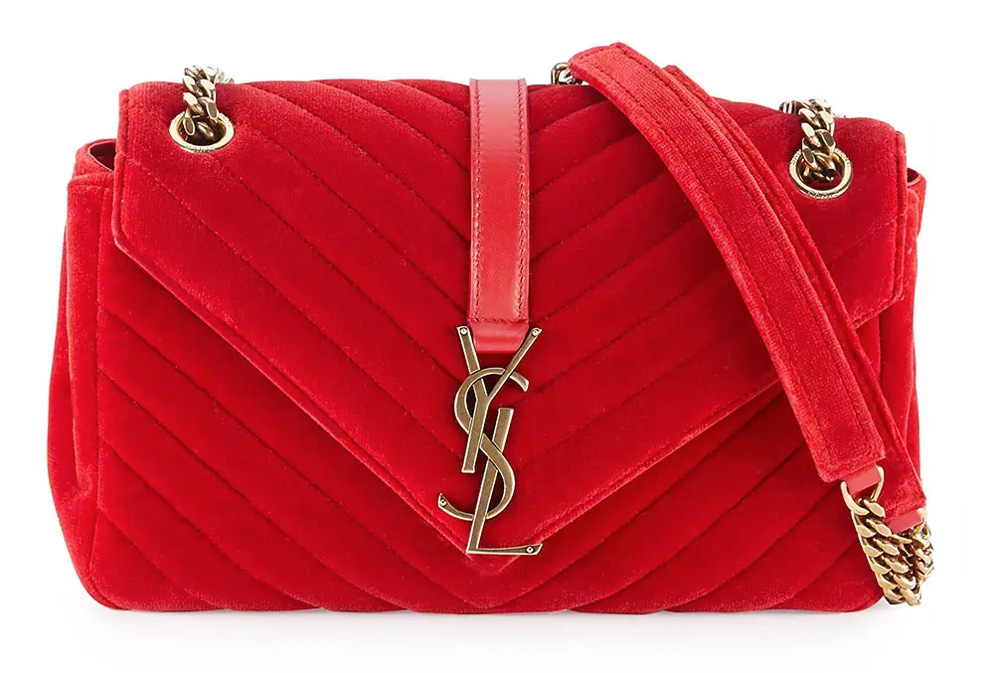 15 / 18
Salvatore Ferragamo Vara Beaded Shoulder Bag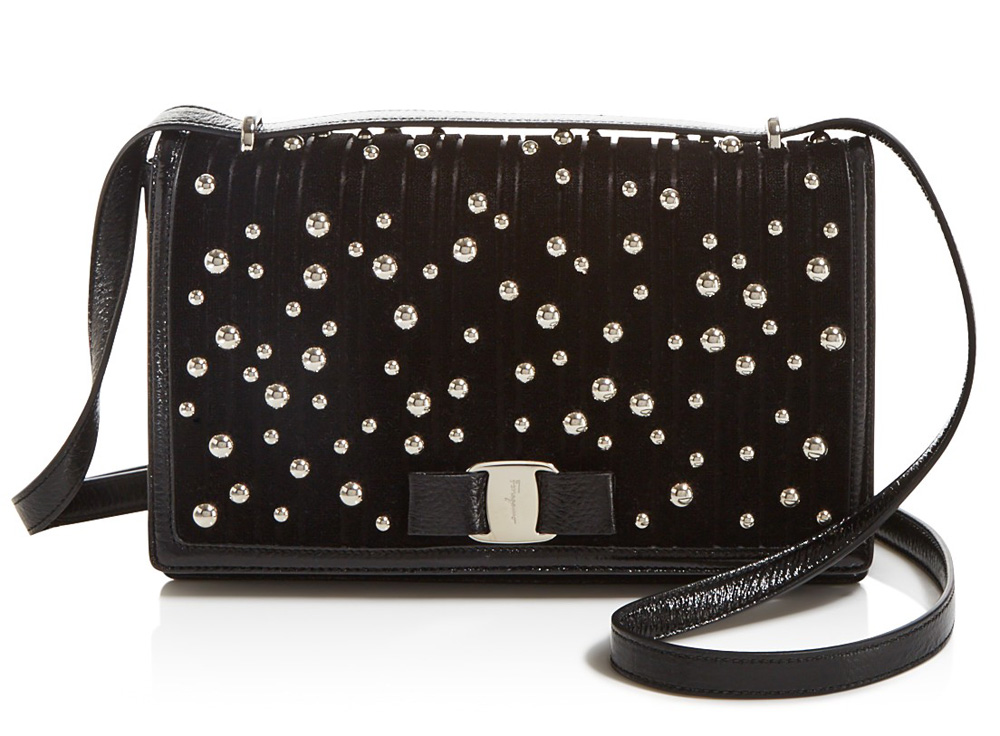 16 / 18
See by Chloé Vicki Evening Bucket Bag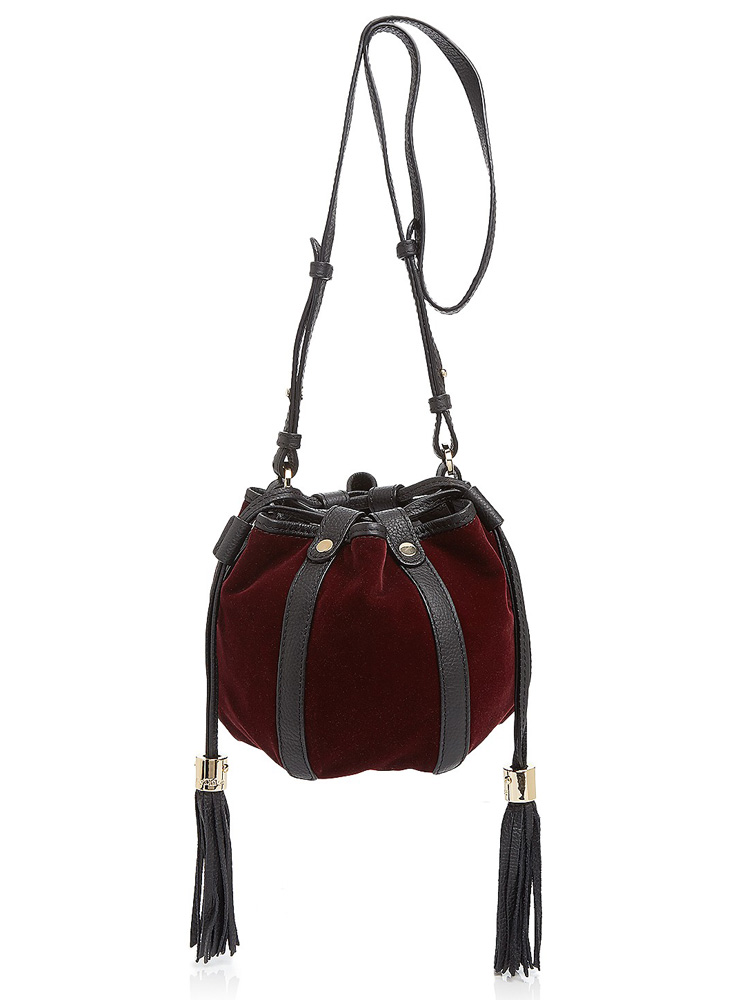 17 / 18
Stella McCartney Velvet Falabella Bag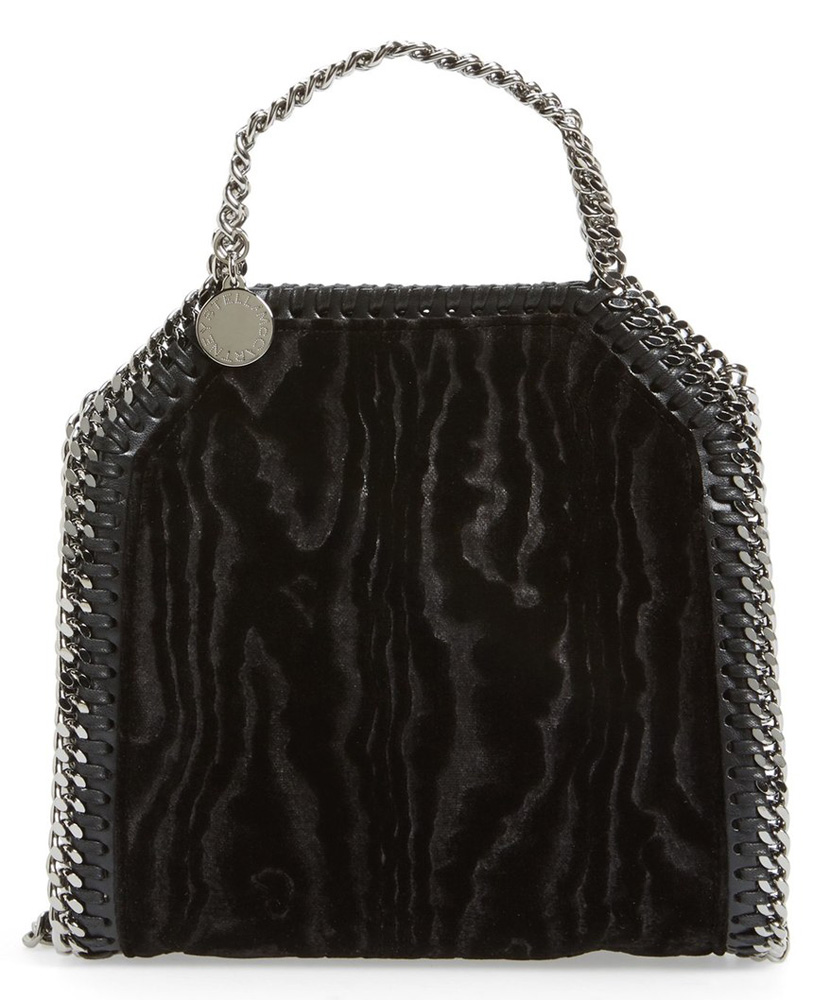 18 / 18
Zilla Barrel Clutch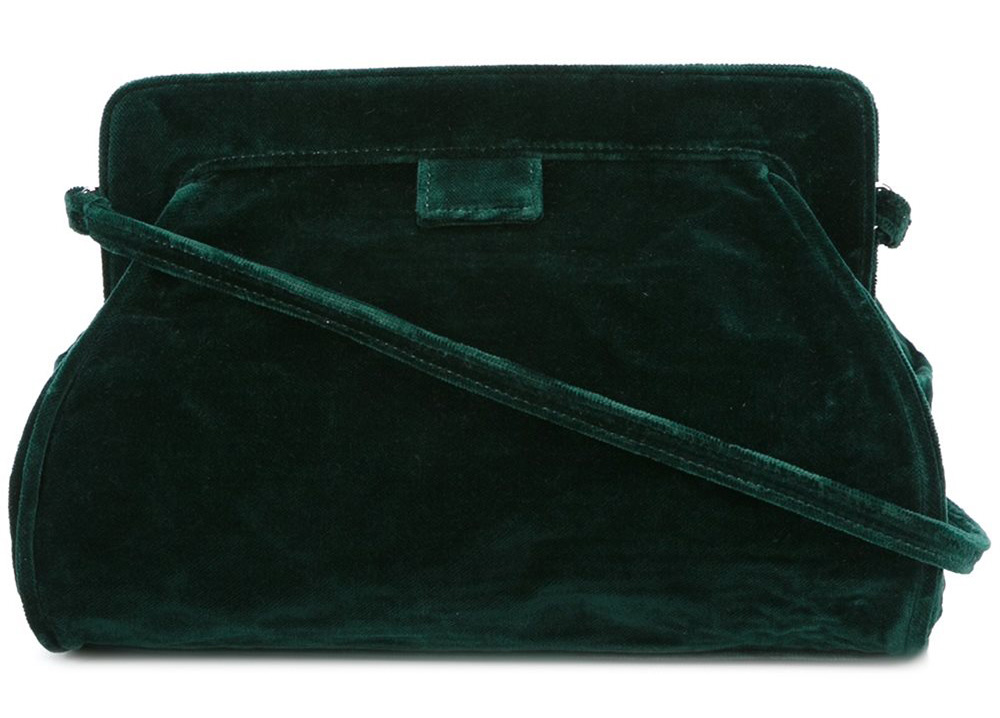 Fashion
Chanel Diamond CC Zip Wallet
Style code: A92734
Size: 10.5′ x 19.5′ x 2′ inches


Now the name might be a giveaway given that the center print looks like a diamond but it's still an elegant name for a wallet right? Ladies, meet the Diamond CC Wallets from Chanel.
Made from grained calfskin & silver metal black, the Chanel Diamond CC Wallets are a fashion must haves! Stylish, chic and sophisticated, this particular Chanel wallet is something that you should carry on your bag wherever you go.
Perfect for stashing your crisp bills and your credit cards thanks to its several card slots, the Diamond CC Wallet is one thing you'll be reaching for every now and then as you pay for your lunch, shopping spree and even your grocery. Thanks to its elegantly stylish design, you'll surely be proud to be seen owning it.
Running your fingers through its grained calfskin leather will also gives you that luxurious feel to the touch!
Chanel Diamond CC Flap Wallet
Style code: A80696
Size: 4.1′ x 7.7′ x 0.8′ inches


Chanel Diamond CC Coin Purse
Style code: A80738
Size: 3′ x 4.7′ x 1′ inches

Fashion
Welcome to August's first edition of the PurseForum Roundup. Summer is officially winding down, and we hope yours has been a pleasant one. We stopped first in The Wardrobe and then paid quick visits to Kate Spade, Gucci and more. Thanks for coming along on our weekly romp through the PurseForum!
It's been a while since we visited the Outfit of the Day thread in The Wardrobe, so this week we will start off by addressing that situation. Charlie_c shared a perfect casual styling of her ensemble featuring Zara, Chanel and Converse! This fast-moving thread includes some of our resident fashion bloggers and it's always a rich source of inspiration.
Before you undertake your next major shopping adventure, be sure to check out the Shopping Your Own Wardrobe thread, a really friendly discussion of fashion that has members supporting one another in their selections. Also, whether you have already reached this wardrobe level or are just curious, this thread sure has a lot of terrific pictures for fans of this iconic Chanel jacket.
We never fail to find cute bags in Kate Spade. This sweet summer seahorse shoulder bag comes to us from betty_boop–what a great little bag! Also, don't miss ehmashoes' teeny-tiny Wellesley Mini Rachelle, along with a (very brief) list of what fits inside.
Freetofly also got a colorful Kate Spade bag this week: a brilliant Cedar Street Maise in a fun color called "cherry liqueur." This delicious bag looks ready for fun.
This week in Gucci, we found yet another magnificent red bag; this time the Bamboo Daily Bag stopped traffic when Breadnbrie shared her latest treasure. We absolutely love this understated, easy, stylish bag from Gucci and hope to see many more on the PurseForum. This thread has many more excellent photographs, including modeling shots, which will likely put this bag right on your wish list!
Littlehanoi scored this splendid Marmont on sale and wonders if it's a keeper–you can follow the conversation straight to the resolution of this dilemma right here. Our members, and even our fearless leader, got into the discussion and helped littlehanoi make the right decision.
Here is a quick look at what we found in Tod's this week. Tod's is a fantastic brandand doesn't get the same attention as some of our other favorites, but it solidly and consistently turns out wonderful bags and shoes. We do love to check in from time to time, and this week we found this fantastic Mini Wave from nightshade, as well as another in raspberry from longtime member ozzysmom.
Ozzysmom also included some modeling snaps for us; you can find them right here. Another surprise from Tod's caught our eye when Jjumnunja posted her brand new loafers; check this thread for pictures and modeling shots. We hope you will enjoy discovering Tod's with us!
Ah, Goyard. Fans know this historic brand has its roots in luggage and is now enormously popular among handbag fans. But we love to see the trunks, whether they be weathered or brand spanking new, like this one from izzue528. We have an interesting thread comparing Louis Vuitton, Hermès, and Goyard that you might want to check out if you are wondering how these three titans in the luxury universe stack up for our members. By the way, Goyard fans will want to check out this thread, where clever alizhan switches up the handles on a couple of bags and solves not one, but two fashion dilemmas.
Thank you for joining us. We wish you a very happy August and a relaxing weekend and week ahead. See you right back here next Friday for more from the PurseForum!